Front Page
Cyberbia
Moneyline
Issues
Opinion
Sports
Nightlife
Free Classifieds
Bookstore
Bulldog Search
Viewer E-mail
Advertise With Us
Masthead




Top Stories
College Sports
Cyberculture
Environment
Fraternities
Human Rights
Internet
Napster
Pop Music
Science
Student Loans
Sororities
Technology




Bulldog News
California Star
Clovis Free Press
Daily Republican
Fresno Republican
Law Review
Reagan Library
River Park News
SierraPortal.com
Tower District News
ValleyPress.com
WebPortal.com
Yosemite News




Yosemite Bookstore
Ahwahnee Hotel
Auto House of Clovis
Aluisi Real Estate
Cerro Negro Music
Clovis Planetarium
FresnoIncomeProperties
Your Fresno Broker
Majestic Pawn
Onomuse Productions
PC Paramedics
Presentations Inc.
Roger Rocka's
Save FSU Soccer
The 2nd Space
Tower 2000 Jukebox
Wetlands Conservation


[an error occurred while processing this directive]


September 20, 2001
Students Protest Cartoon's
Depiction Of Muslims
In Daily Californian at UC Berkeley
By Amy Williams, Staff Writer

BERKELEY -- Dozens of students protested inside the offices of the University of California, Berkeley, student newspaper Tuesday night.
The protesters declared a sit-in and decried what they called a racist editorial cartoon run in that day's edition of the Daily Californian.
The editor of the student publication told reporters on Tuesday and Wednesday there were a hundred or so protestors outside the office.


Protestors were heard to demand an apology by the Daily Californian boiard of directors. At issueis the publication of a syndicated cartoonist Darrin Bell. In a statement issued early Wednesday, the Senior Editorial Board of the newspaper said it would not issue an apology for the cartoon.
The board said the cartoon represented the opinion of the cartoonist and "in no way reflects the views and opinions of the Daily California ... we maintain the cartoon falls within the realm of fair comment." the board said in a printed news release received late Wednesday.. "Cartoons are usually exaggerated, sometimes satire, and almost always meant to spark a discussion.
We are willing to begin a reasoned discourse on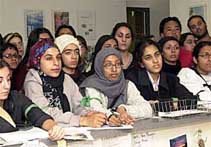 this issue with a representative group of student leaders," the student newspaper Board of Directors concluded.
In opposition to the Californian's position, Robert Chala who said he represented the Arab Student Union told reporters, "...this cartoon is a license for violence against Arab, Muslim, Sikh, Iranian, and other communities... Freedom of speech should not come at the cost of anyone's safety!"

[Editor's Note: According to a notice early this morning, an unidentified party hacked into The Daily Californian Web Site Wednesday evening and placed on the site a falsified apology for the publication of Darrin Bell's Tuesday editorial cartoon. The Daily Cal Senior Editorial Board reaffirms that it will not issue an apology. UC police are investigating the breach in the Daily Cal's online security. ]
©1958-2003 Bulldog Newspaper Foundation. All Rights Reserved.



[an error occurred while processing this directive]