September 30, 2002
THE MISFITS
Are Back Again
by Dave Henderson, Staff Film Reviewer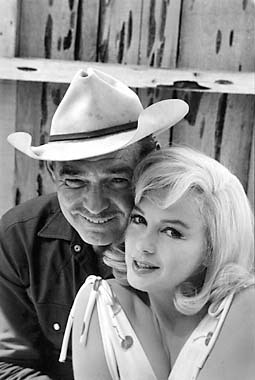 FRESNO STATE -- The film classic, about filmmaking, "Making 'The Misfits " is back again this week. It all begins at 8 p.m. Wednesday., The series looks s back at the 1961 film that brought together movie legends Clark Gable and Marilyn Monroe, and also marked their last time onscreen.
A mournful study of lost souls living in the Nevada desert, "The Misfits" was directed by John Huston, written by Monroe's then-husband Arthur Miller, and co-starred a dream cast of Montgomery Clift, Thelma Ritter and Eli Wallach.
Apart from rough shooting conditions and 110-degree weather, Monroe's confidence was shaken by a recent miscarriage and affair with French actor Yves Montand.
Terrified by a role that didn't allow her the escape of comedy, chronically late to the set, she fought with Miller and saw their marriage collapse. Gable, determined to prove his virility at 59, insisted on shooting grueling scenes with a horse and died of a heart attack shortly thereafter. Huston, Monroe's personal choice as director, escaped the mounting tension by gambling all night in Reno's casinos.
Director Gail Levin interviews surviving cast members Wallach and Kevin McCarthy, crew members and photographers and Miller, who has rarely spoken about Monroe in the past. "It was artistically a wonderful experience," he says. "It's just that personally, it was terrible to see Marilyn go through such torture."
When Miller describes the people of Nevada and their "unrequited longing for something they couldn't name," he could just as easily be describing Monroe and her fellow actors. After four decades, "The Misfits" and its sad legacy are undimmed.
©1958-2003 Bulldog Newspaper Foundation. All Rights Reserved.